Have your kids ever gotten a packet of that powdered play snow? Mine, the 4 year old AND the 11 year old, love the stuff. I can usually only find it around here during the holidays and the other day we were down to one packet and the 4 year old had already claimed it.
Being the chronic DIYer that I am I was convinced there was a way to DIY my own. And there was! And you will. not. believe. 1) how easy it is 2) how I made it. And you probably already have everything you need on hand right now!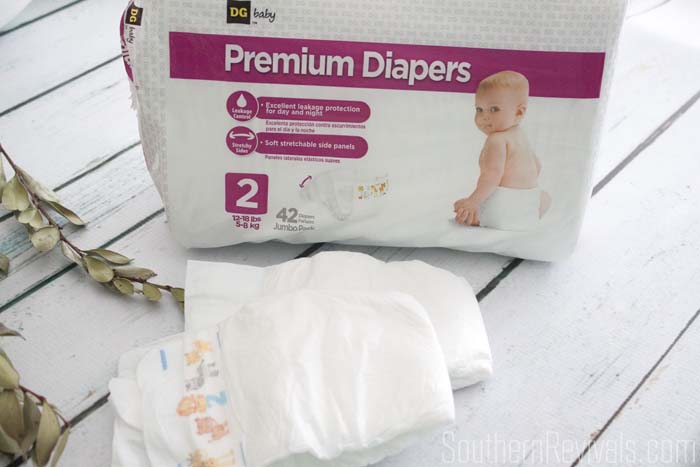 So here's where things might start to feel a little strange for you. I did some research to figure this fake snow stuff out and what I found were some really creative ways to replicate your own. But none of them were made from the actual ingredient found in the store bought stuff and that's what I was looking for. Being the nerd that I am I like to know exactly how things work and I didn't want a knock off, I wanted the real thing. Chemistry! I needed chemistry.
That's when my search lead me to this article from Anne Marie Helmenstine, Ph.D. a chemistry expert. Now I was on to something! I found out that the fake snow, of the store bought variety, is made of sodium polyacrylate which just happens to be the same thing found in….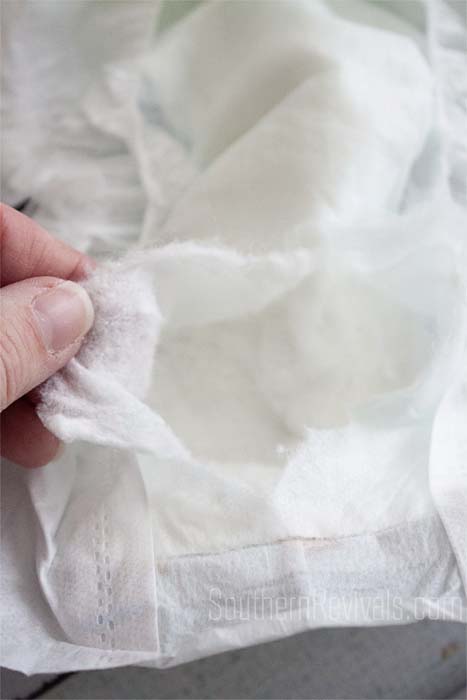 You guessed it! DIAPERS!
It's what absorbs the moisture to keep your little one's bum dry until the next diaper change and it is absolutely perfect for making fake play snow. And if you've already got diapers on hand then you're all ready to go!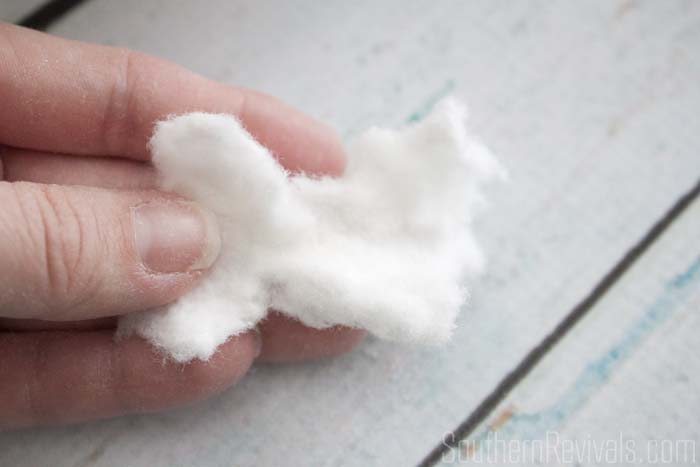 You'll start by tearing open the inside layer of the diaper to get to the fluffy white stuff inside. It's NON-toxic*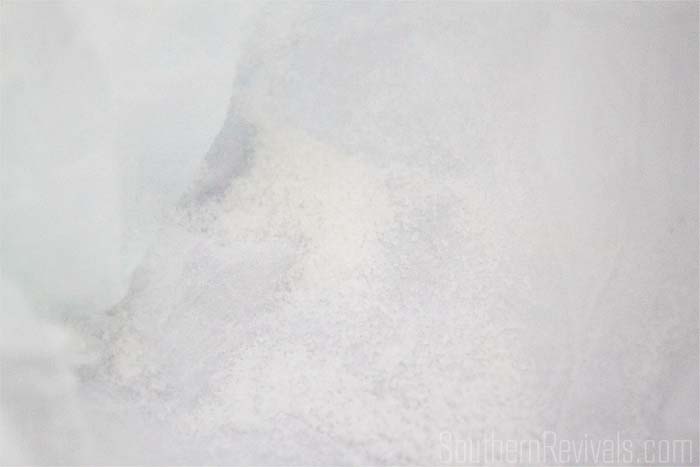 You'll also be left with these little granules too which you'll want to make sure get added into the mix.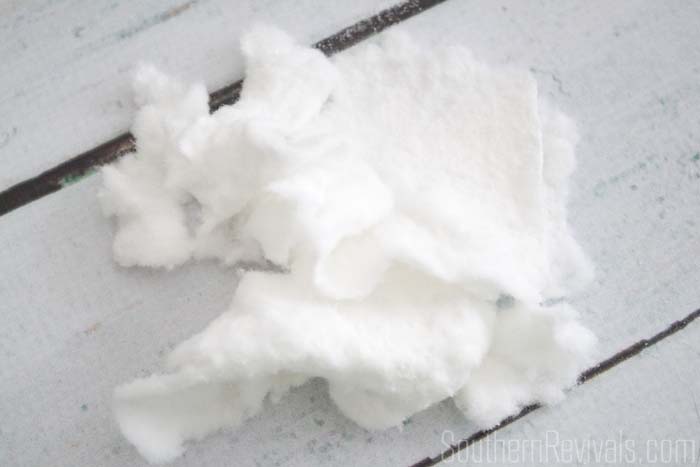 I used one size 2 diaper from a package I got from the Dollar General. I paid around 6 bucks for the package of 42 which means I can make an entire batch of fake play snow for around .14 cent!
Store bought fake play snow isn't expensive at around $2 per package but the convenience of already having the supplies you need on hand makes it even more worth it!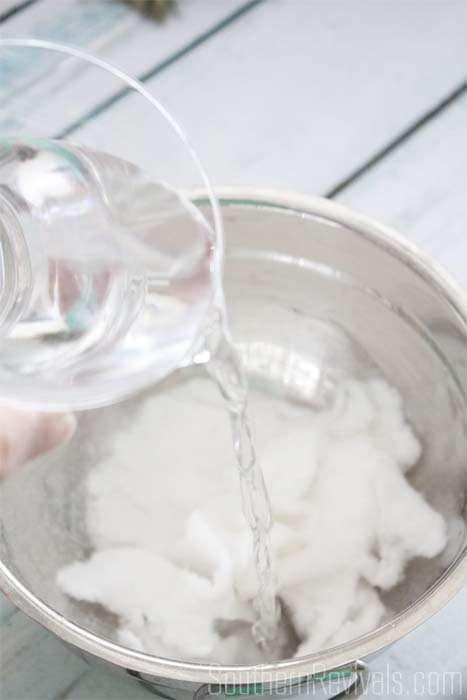 To make the snow I added 3/4 cup water to the contents of a size 2 diaper. (If you want finer snow, you can put this in a food processor before adding water.)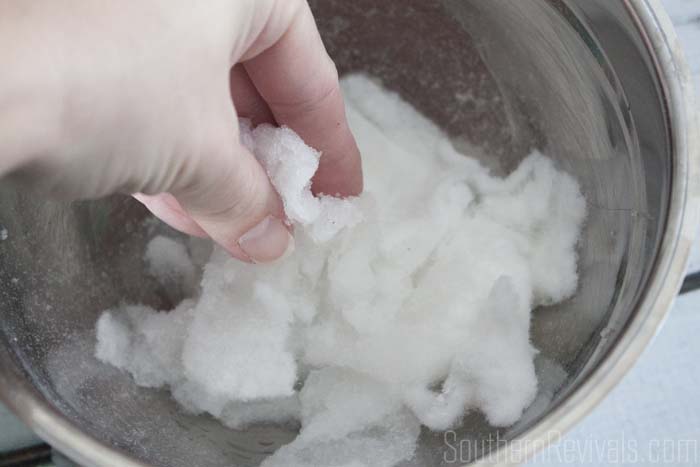 Then you simply mix with your hands.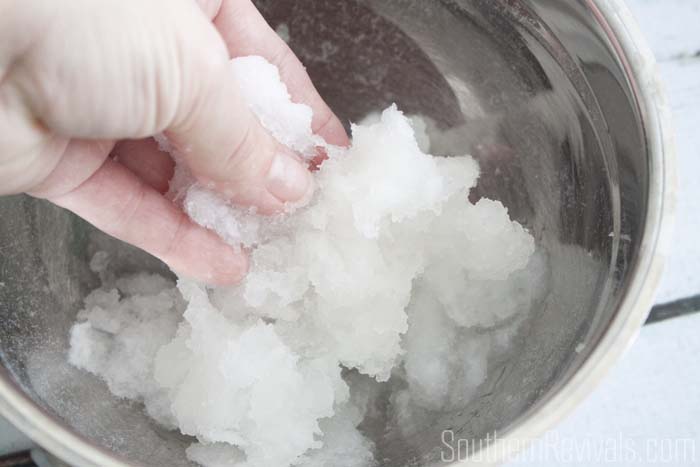 You can add slightly more less water depending on how slushy you want your snow.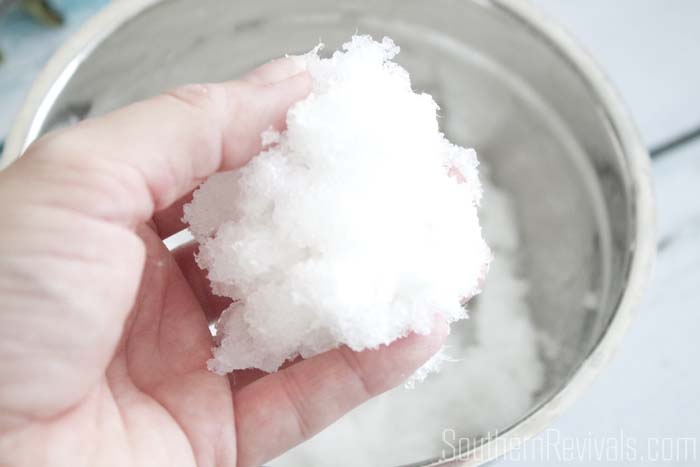 And voila'! DIY fake play snow! Looks so much like the real thing, doesn't it!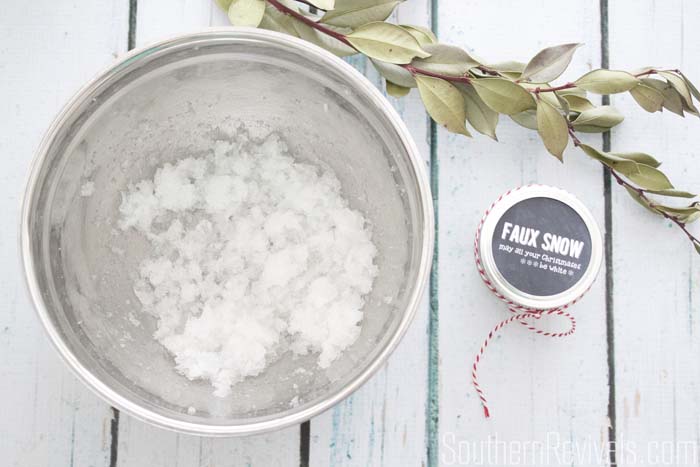 Next time the kids are bored or fussy or the weather is too frightful to play outside this is a quick activity to throw together. And you can pop it into the fridge for an even more realistic feel.
I might suggest though that you don't tell them it came from a diaper. (Kind of like hiding vegetables in the spaghetti sauce or mac n cheese, what they don't know won't hurt them!)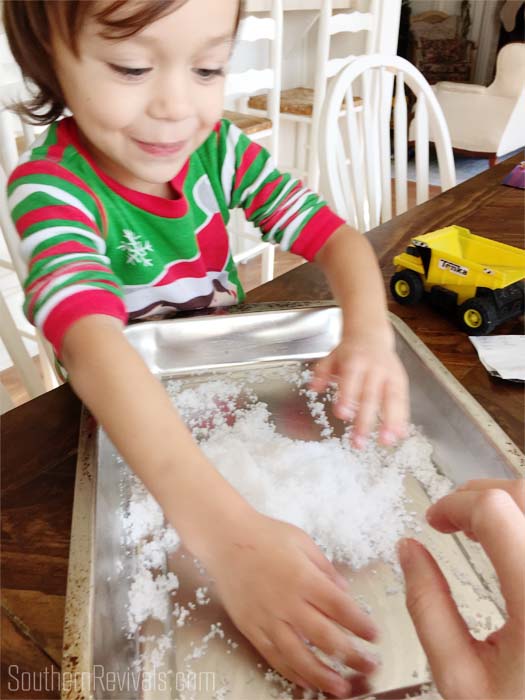 It always amazes me at how long this keeps them occupied. They play at the kitchen table while Mom is preparing food. That way there's no screaming and fighting from living room while I'm trying to cook. Sound familiar?
It lasts for several days or even weeks if you keep it sealed. Or until it gets gross from being handled so much. Then you can just make another batch!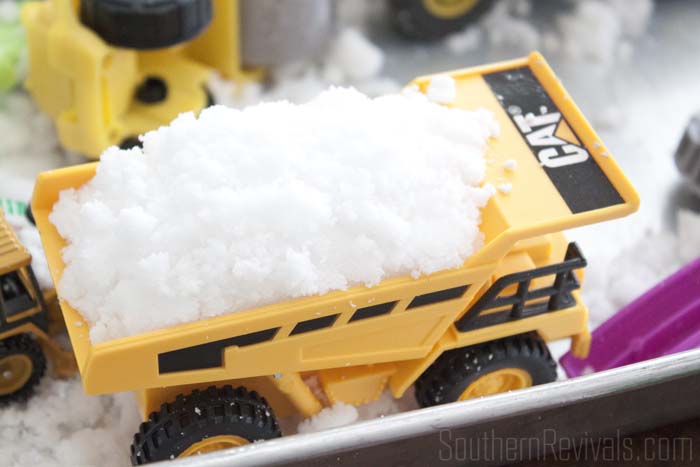 It can of course get a little messy so we play with ours in large metal trays or pans.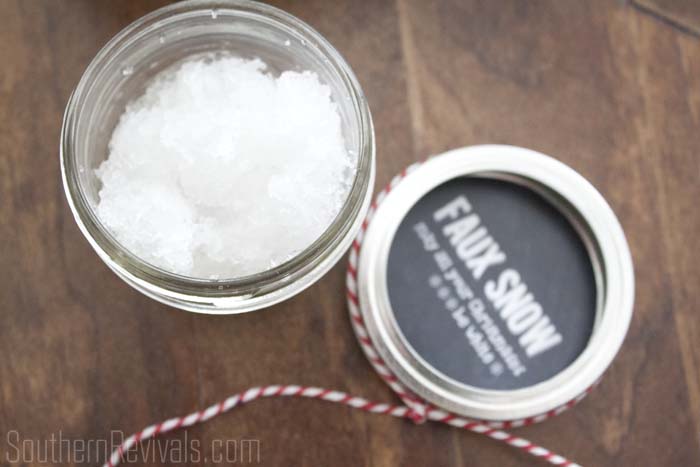 It would also make a pretty great gift or stocking stuffer. Again, if anyone asks what's it made of, you should probably say Sodium Polyacrylate – not diapers!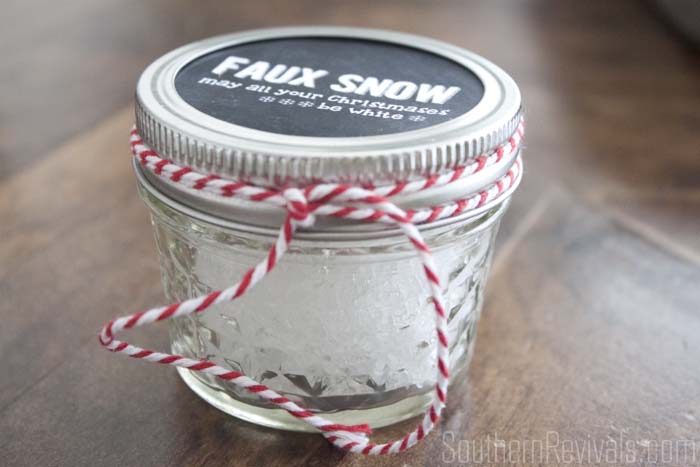 So, you're not afraid of a project made with diapers but you want to dress things up a bit? I grabbed some small jelly jars, printed up some cute toppers and tied it up with festive baker's twine. Now you'd never know it started out as a humble diaper.
Want to make your own? Click on the labels below, which are perfectly sized to fit the tops of any regular sized mason jar, to download. Then simply print them out onto card stock. Great for stocking stuffers or classroom gifts.
*Obligatory Disclaimer, Precautions & Tips:
It IS non-toxic but should not be consumed.
As with any DIY, especially involving children, please use your discretion when deciding what is appropriate for your child.
The manufacturers of these products  suggest an age of 5+ and children should always be supervised while playing with anything they might ingest.
Slippery when wet.
Do not use directly on unfinished wood.
To dispose of: Add it to any plant or garden soil to enhance moisture holding properties of the soil!
Find more info on Sodium Polyacrylate (or waterlock) here: http://en.wikipedia.org/wiki/Sodium_polyacrylate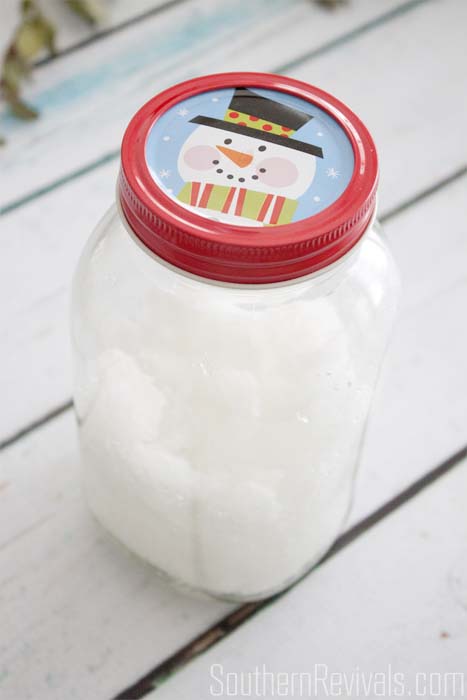 Happy holidays!
Merry Christmas, Happy Hanukkah, Kwanzaa or whatever it is you celebrate and may all your Christmases be white….even if you have to use a diaper to make it so!